Morrison Clinic™: Expert Brain and Spine Neurosurgery Services for Your Best Quality of Life
Dr. Morrison is a general neurosurgeon, which means he's knowledgeable about, and capable of, delivering relief from conditions affecting your entire nervous system — be it your brain, spine, face or peripheral body parts. 
He is renowned as one of the best minimally-invasive spine surgeons in Florida, and performs endoscopic spine surgery, spinal fusions, brain tumor and skull base surgery,  and cerebrovascular surgery. (See the complete list of brain and spine neurosurgery he performs below). 
Unlike many neurosurgeons, Dr. Morrison views surgery as a last resort. The types of surgeries he performs are designed to minimize the trauma of surgery and recovery periods, and maximize your quality of life thereafter.
We invite you to schedule an e-consultation with Dr. Morrison today. 
Elevate Your Care with Personalized Concierge Services
Morrison Clinic™ is pleased to share that Concierge Services are now availalble — further elevating your care experience with one of the best neurosurgeons in Florida. The most personalized approach to your treatment, Concierge Services are delivered with the expanded options for assistance that many of our patients — especially those visting from out of town — need, as well as the enhanced experience you deserve.
Endoscopic and Minimally-Invasive Spine Surgery in Florida
Endoscopic Spine Surgery (ESS): Endoscopic spine surgery is an advanced, state-of-the-art form of minimally invasive spine surgery. During an endoscopic procedure, the surgeon makes a small stab incision (the size of a pencil) through which a guided wire is inserted. The guide wire is used to locate the damaged part of your spine. A fluoroscope (specially designed X-ray machine) is used to ensure the correct path is made to the affected spinal area in order to treat the condition. 
ESS is used to treat back pain and sciatica caused by disc herniations, spinal arthritis and stenosis, and designed to provide you with a quicker recovery time and less recurring pain than traditional spine surgery methods. ESS also can help preserve normal range of spine mobility post-operatively.  Advancements in surgical technology now allow for spinal fusions to be performed using the endoscope.
Minimally Invasive Spine Surgery (MISS): Minimally invasive spine surgery is an alternative to traditional open-spine surgical procedures. MISS uses smaller incisions than open-spine surgery. This often causes less harm to nearby muscles and other tissues. It can lead to less pain and faster recovery after surgery.
It is used to treat different spinal disorders, such as degenerative disc disease, herniated discs, scoliosis, and spinal stenosis. Spine surgery performed minimally invasively offers many potential benefits, such as small incisions, less cutting through soft tissues (eg, ligaments, muscles), outpatient options, less post-operative pain, and faster recovery.
Spine Neurosurgery: Spinal Decompression (laminectomy, microdiscectomy, endoscopic discectomy), Spinal Fusion (Anterior Cervical Discectomy and Fusion – ACDF surgery, Posterior Cervical Fusion – PCF, Anterior Lumbar Interbody Fusion – ALIF, Transforamenal Lumbar Interbody Fusion – TLIF surgery, Posterior Lumbar Interbody Fusion – PLIF, Lateral Lumbar Interbody Fusion – LLIF surgery, EXtreme Lateral Interbody Fusion – XLIF), Minimally Invasive Spine Surgery, Endoscopic Spine Surgery, Endoscopic Fusion, Spine Tumor Surgery, Spinal Cord Detethering, Kyphoplasty, Quattro Plasty.
Back Pain Care Services: We view surgery as a last resort, and offer a comprehensive range of non-surgical, personalized back pain treatment options.
Cerebrovascular Neurosurgery: Brain Aneurysms, Arteriovenous Malformations, Cerebral Bypass for Stroke or MoyaMoya, Dural Arteriovenous Fistula, Cavernous Malformations, Carotid Endarterectomy, Minimally Invasive Hematoma Resection, Microvascular Decompression (for Trigeminal Neuralgia, Hemifacial Spasm), Brain Biopsy for Vasculitis.
Brain Tumor Surgery: Meningioma, Glioblastoma, Metastasis, Minimally Invasive Tumor Resection, Acoustic Neuroma/Vestibular Schwannoma, Skull Base Tumors, Pituitary Tumor Surgery.
Hydrocephalus Surgery (for Normal Pressure Hydrocephalus, Idiopathic Intracranial Hypertension/Pseudotumor Cerebrei, Obstructive Hydrocephalus), Endoscopic Third Ventriculostomy, Ventriculoperitoneal Shunt, Lumboperitoneal Shunt.
Peripheral Nerve Surgery: Carpal Tunnel Decompression, Ulnar Nerve Decompression, Sural Nerve Decompression, Peroneal Nerve Decompression, Vagal Nerve Stimulator, Nerve Biopsy, Muscle Biopsy, Thoracic Sympathectomy for Hyperhidrosis.
Intrathecal Pump for pain or spasticity: Spinal Cord Stimulator for Failed Back Syndrome.
Specialized Treatment for Headaches : Infusion, Botox, Stimulator Placement, Microsurgical Decompression, and Microvascular Decompression for Frontal, Cluster, Tension and Occipital Headaches, as well as Migraines and Neuralgia.
Neurotrauma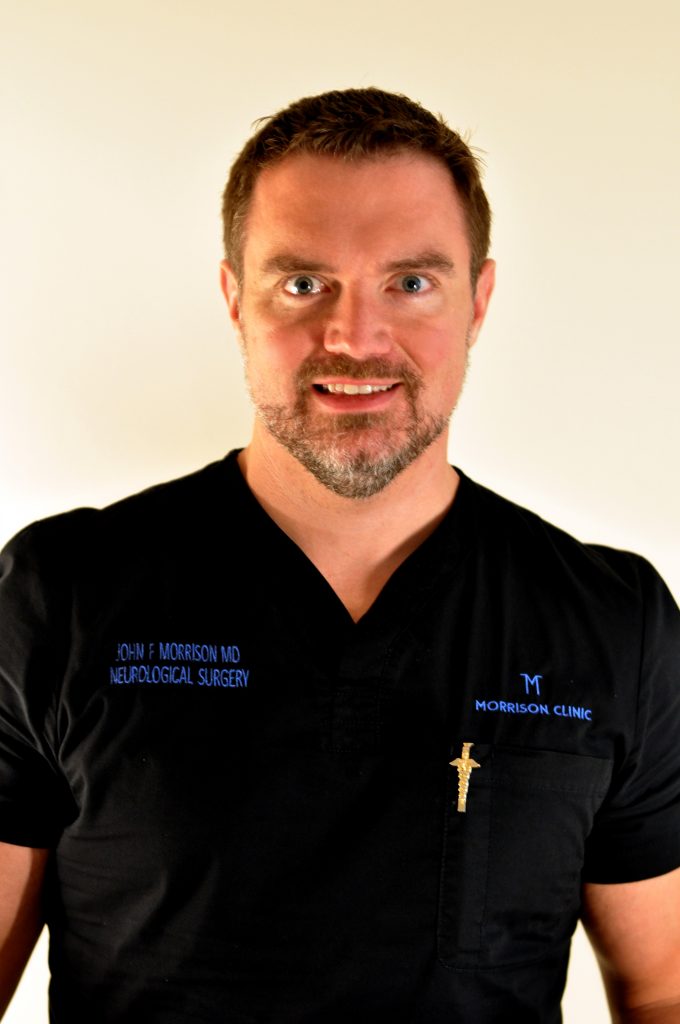 Neurosurgeon E-Consultation: Request Now